Некролог Владимира Чугунова (Чугуева), написанный нашим коллегой по русской службе Би-Би-Си Дираном Мегребляном, был напечатан в газете Таймс 4 февраля 2005 года.
---
VLADIMIR CHUGUEV
Cold War émigré broadcaster with a passionate attachment to the pre-Communist Russia he had never known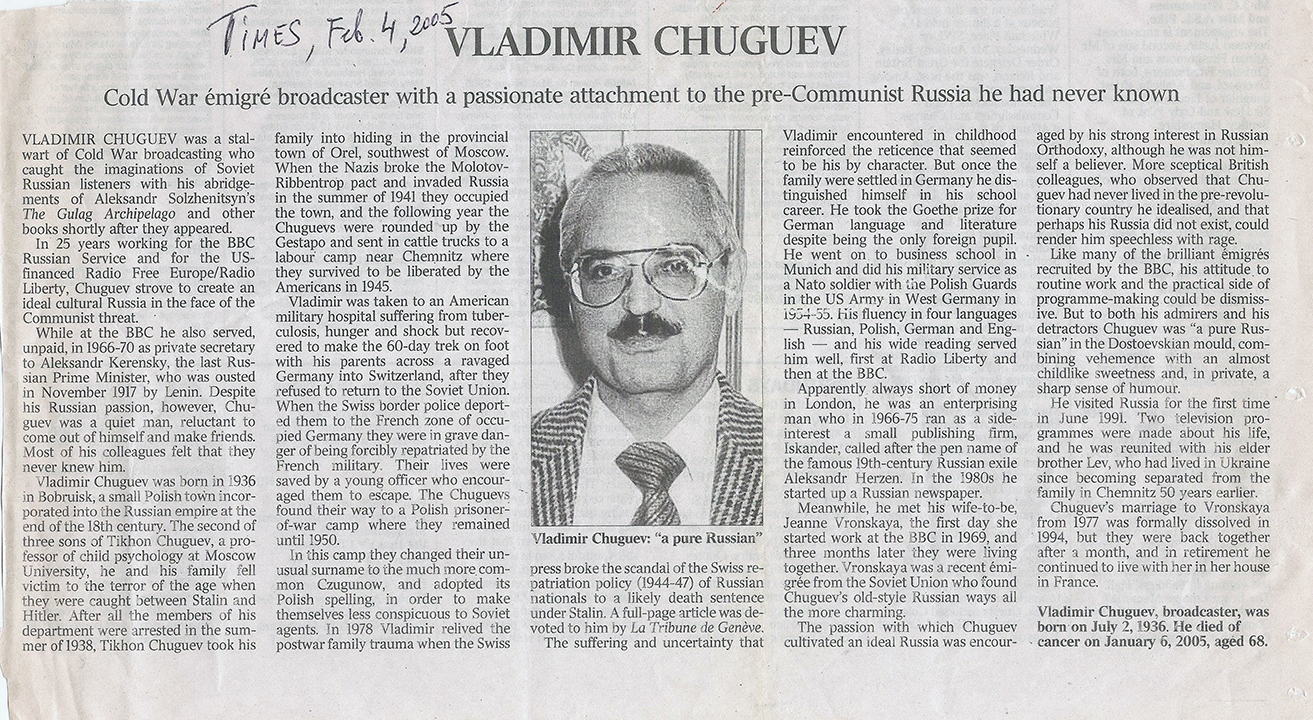 VLADIMIR CHUGUEV was a stalwart of Cold War broadcasting who caught the imaginations of Soviet Russian listeners with his abridgements of Aleksandr Solzhenitsyn's The Gulag Archipelago and other books shortly after they appeared.
In 25 years working for the BBC Russian Service and for the US-financed Radio Free Europe/Radio Liberty, Chuguev strove to create an ideal cultural Russia in the face of the Communist threat.
While at the BBC he also served, unpaid, in 1966-70 as private secretary to Aleksandr Kerensky, the last Russian Prime Minister, who was ousted in November 1917 by Lenin. Despite his Russian passion, however, Chuguev was a quiet man, reluctant to come out of himself and make friends. Most of his colleagues felt that they never knew him.
Vladimir Chuguev was born in 1936 in Bobruisk, a small Polish town incorporated into the Russian empire at the end of the 18th century. The second of three sons of Tikhon Chuguev, a professor of child psychology at Moscow University, he and his family fell victim to the terror of the age when they were caught between Stalin and Hitler. After all the members of his department were arrested in the summer of 1938, Tikhon Chuguev took his family into hiding in the provincial town of Orel, southwest of Moscow. When the Nazis broke the Molotov-Ribbentrop pact and invaded Russia in the summer of 1941 they occupied the town, and the following year the Chuguevs were rounded up by the Gestapo and sent in cattle trucks to a labour camp near Chemnitz where they survived to be liberated by the Americans in 1945.
Vladimir was taken to an American military hospital suffering from tuberculosis, hunger and shock but recovered to make the 60-day trek on foot with his parents across a ravaged Germany into Switzerland, after they refused to return to the Soviet Union. When the Swiss border police deported them to the French zone of occupied Germany they were in grave danger of being forcibly repatriated by the French military. Their lives were saved by a young officer who encouraged them to escape. The Chuguevs found their way to a Polish prisoner-of-war camp where they remained until 1950.
In this camp they changed their unusual surname to the much more common Czugunow, and adopted its Poilsh spelling, in order to make themselves less conspicuous to Soviet agents. In 1978 Vladimir relived the postwar family trauma when the Swiss press broke the scandal of the Swiss repatriation policy (1944-47) of Russian nationals to a likely death sentence under Stalin. A full-page article was devoted to him by La Tribune de Geneve.
The suffering and uncertainty that Vladimir encountered in childhood reinforced the reticence that seemed to be his by character. But once the family were settled in Germany he distinguished himself in his school career. He took the Goethe prize for German language and literature despite being the only foreign pupil. He went on to business school in Munich and did his military service as a Nato soldier with the Polish Guards in the US Army in West Germany in i934-55. His fluency in four languages — Russian, Polish, German and English — and his wide reading served him well, first at Radio Liberty and then at the BBC.
Apparently, always short of money in London, he was an enterprising man who in 1966-75 ran as a side-interest a small publishing firm, Iskander, called after the pen name of the famous 19th-century Russian exile Aleksandr Herzen. in the 1980s he started up a Russian newspaper. Meanwhile, he met his wife-to-be, Jeanne Vronskaya, the first day she started work at the BBC in 1969, and three months later they were living together. Vronskaya was a recent émigré from the Soviet Union who found Chuguev's old-style Russian ways all the more charming.
The passion with which Chuguev cultivated an ideal Russia was encouraged by his strong interest in Russian Orthodoxy, although he was not himself a believer. More sceptical British colleagues, who observed that Chuguev had never lived in the pre-revolutionary country he idealised, and that perhaps his Russia did not exist, could render him speechless with rage.
Like many of the brilliant émigrés recruited by the BBC, his attitude, to routine work and the practical side of programme-making could be dismissive. But to both his admirers and his detractors Chuguev was «a pure Russian» in the Dostoevskian mould, combining vehemence with an almost childlike sweetness and, in private, a sharp sense of humour.
He visited Russia for the first rime in June 1991. Two television programmes were made about his life, and he was reunited with his elder brother Lev, who had lived in Ukraine since becoming separated from the family in Chemnitz 50 years earlier.
Chuguev's marriage to Vronskaya from 1977 was formally dissolved in 1994, but they were back together after a month, and in retirement he continued to live with her in her house in France.
[DIRAN MEGHREBLIAN]
Vladimir Chuguev, broadcaster, was born on July 2,1936. He died of cancer on January 6, 2005, aged 68.